Education System of Bangladesh
Introduction:
Consistent with the education system of Bangladesh, students pass their adolescent in secondary education which is the best time to build up and prepare for the future. Traditionally, in almost all educational institutes (schools), activities like class exercises, class tests, home works, sports, cultural programs etc. are being observed regularly. Although these co-curricular and extra-curricular activities are crucial for their behavioral, social and practical knowledge based development, students have been evaluated only on the basis of terms examination and final examination marks. These activities have been paid minor significance and being optional or kept out of evaluation criteria, majority of the students were left with the scope to ignore them and remain out of the activities.
SBA: School Based Assessment (SBA) is a continuous process of evaluating the learning improvement of students directed by the teachers. This process ensures within certain span of time that a student achieves all the learning purposes. Under the SBA system, for each subject, semester based examinations will comprise 70% marks and the remaining 30% marks will be on the basis of the following criteria.
A)   Class performance and willingness for learning
B)   Evaluation (Class base)
C)   Assignment (Individual/group)
D)   Behavior, perception and honesty
E)   Speech presentation, individual/group discussion
F)   Leadership
G)   Discipline
H)   Participation in cultural programs
I)     Dexterity in sports and
J)    Scientific practical classes
SBA is a comprehensive process that includes the following three major activities:
i. Coursework: Evaluation of a student's text and curricular activities at classes and home all the year long. The coursework of an SBA student includes the following activities:
Class test: Class test is generally a written test which is taken after the completion of a certain chapter or unit of the syllabus.
Classwork and practical: Works done in the class i.e. listening, reading, writing, drawing etc.
Home work: Work done at home assigned and guided by the teacher.
Assignment: Assignment refers to home work in broader sizes that require the use of extra curricular text and information.
Oral presentation: Students are allowed to speak and present their own works and accomplishments.
Group work: Group works help build the habit of paying attention to others' opinion and feelings and attain the skills of working together and characteristics of leadership.
ii. Personal Development: Evaluation of behavioral, social and co-curricular participation in school. Personal development includes the following features:
* Behavior of students at school: The school behavior of a student includes – following the rules at school, polite behavior, consideration for others and their assets, helping attitude around the school and in classes, taking the responsibility of leadership and accomplishment of the same, and passion for study and hard labor.
* Personal and social perception of students: Personal and social perception aims at developing the students' ability in various fields including differentiate between justice and injustice and appreciate the importance of honesty and truthfulness, consciousness about own responsibility and right as a family member and learner, to have compassion for those who are different in culture, religion, and eligibility, to be proud of own nation, religion, family and country, and to be aware and work for the issues related to environment.
* Participating in the co-curricular activities: The co-curricular activities provide the opportunities of attaining skills and appreciation in enjoyment except for the curricular activities. These activities include- cultural function, sports, performing in the scout and girl guides etc.
iii. Evaluation of improvement in terminal and final examinations: These are written tests that evaluate students' memory and thinking skills. We all are used to these tests but the exception brought in by the SBA is, instead of 100% marks these will be retaining 70% of the evaluation marks.
Statement of the Problem:
As per the traditional system, studies for secondary students in our country would mean hours spent in memorizing information by rote. As a result, their assessment was based on how much information they could retain, as opposed to how much information they could process, understand and retain as knowledge. There was little scope to evaluate the skill of applying, analyzing, synthesizing and evaluating the achieved knowledge and ability of the student. Hence, their assessment was largely flawed as it was no meaningful indication of what they had actually learned. It was the recognition of these problems that lead to the final implementation of SBA by the Government of Bangladesh.
Objective of the Study :
The study is intended to examine the throughout features of the SBA process along with its feasibility in the secondary schools of our country. The main objective is to find out the advantage and disadvantages with an attempt to evaluate the potential effectiveness of the process in the perspective of our secondary schools.
Literature Review
To enrich the research vast information could collect. But unfortunately I have to do the work in a very short time frame. So I did not able to contact with so many sectors. More over I tried my best to develop this research. Related books, features published in the daily news paper have followed before starting the research.
The following literature is reviewed
i. Shikkhok Nirdeshika (SBA for class six to nine)
ii. The gadget of Ministry of education about SBA. The gadget of directorate of Secondary and Higher education about SBA.
iii. Different journals from internet.
 Limitation of the Study
To prepare this term paper some sorts of problems were created. That's why this term paper suffers from limitation. Such as:
a)    As a trainee of 134 FTC I did not able to get much time.
b)    Lack of relevant books, data and journals.
c)    Scarcity of reference books in the library on the topic.
d)    As the time was very short that's why data collection and analysis were made in a simple way.
e)    Higher statistical method is not applied for deciding sample size in proportion to the population of the study.
The research has been conducted in three schools for period of two months. Both primary and secondary sources have been used for collecting data. While selected respondents have been interviewed. For primary data, related publications, journals and newspapers have been looked up as secondary sources for acquiring necessary information. According to Gustav W. SRIEDRICH, a very rough rule of thumb for the novice researcher is that, samples of less than thirty are generally considered in adequate except for pre-testing; samples in the one hundred to two hundred range are rarely brought into question; and few research questions require samples of greater than five hundred 1 . [1. Sampling theory, methods of inquiry syllabus, 514, (com, info, rutgerh. edu/ » gusf/sampling/]. For our study considering the limitation of time and other resources 30 participants including students and teachers have been interviewed. For the lack of enough time only 30 respondents have been covered from only one district. Data collected through questionnaire have been entered into a data base designed using SPSS and frequency tables with percentages and graph have been developed to get the frequency and pattern of responses.
Data presentation and analysis:
This study is regulated for finding out merits and demerits of SBA for Secondary education in Bangladesh.
This above table shows that the major (83.3%) respondents expressed their opinion that SBA method can make students school oriented.
This above table shows that the major (70%) respondents expressed their opinion that SBA helps increase students presence at school.
This above table shows that the major (76.67%) respondents expressed their opinion that SBA makes students inquisitive.
This above table shows that the (40%) respondents expressed their opinion that SBA may introduce partiality and major 50% respondents have been expressed their opinion that SBA will not introduce any partiality in evaluation system.
This above table shows that the major (80%) respondents expressed their opinion that SBA helps improve students overall performance.
This above table shows that the major (80%) respondents expressed their opinion that SBA helps students think independently.
This above table shows that the major (50%) respondents expressed their opinion that SBA increase dependency on teachers.
This above table shows that the major (50%) respondents expressed their opinion that teachers are adequately trained for conducting SBA.
 This above table shows that the major (100%) respondents expressed their opinion that student-teachers ratio should be reviewed for proper implementation of SBA.
Merits & Demerits of SBA:
Students are being school oriented: Students are more likely to be school oriented under the SBA method than the previous times under traditional system. SBA evaluation includes participation in 6 course works which needs students' presence at school. Students cannot remain out of school perimeters to be evaluated this way.
Increasing creativeness: SBA marks are determined through assignment, oral presentation, team work etc. which help increase the creativeness of students.
Achieving real-life education: SBA method includes activities that allow students to be educated with real life skill and knowledge.
Making students confident: Under SBA method students are evaluated through various activities rather than merely their ability of memorizing. As a result they become confident and learn to think independently.
Problem in evaluation: In our country, absence rate of both teacher and students is very high in many schools. As the number of students is too many, a teacher cannot always evaluate all the students appropriately. For the lack of enough teachers, a teacher has to attend 6-7 classes daily. So he is unable to spare enough time to be involved in SBA activities. Again, his class performance is also hampered to make time for SBA activities.
Partiality: School teachers are all in all in evaluating an individual student. There is scope for a teacher to under mark or over mark a student out of partiality or nepotism.
Training for teachers: SBA evaluation is a comprehensive process involving a number of distinct events. Although SBA has been introduced in the country, teachers are not trained on it yet. So, evaluation is not flawless.
The study reveals a number of impacts of implementing SBA in the secondary schools of Bangladesh including both positive and negative impacts. The positive and negative impacts are described below respectively:
Positive Impacts:
SBA is making students school-oriented.
SBA is increasing creativeness in students.
SBA helps students learn to think independently and with confidence.
SBA is decreasing the dependence on memorizing.
Students are being obedient to teachers.
Students are learning real-life, practical knowledge.
Negative Impacts:
Students may sometimes be the victims of teacher's personal rage.
For the lack of trained teachers, SBA evaluation is not always flawless.
For a number of diversified activities, students are sometimes afraid of SBA system. It makes them apathetic to go to school.
For lack of adequate number of teachers, normal class delivery is interrupted to attend SBA activities.
 Recommendations:
1. The student-teacher ratio in the schools of our country is not favorable for the implantation of SBA. Adequate teachers should be immediately appointed to make the approach effective.
2. SBA comprises of such diversified activities that many teacher are not well conversant with the method. They need to be perfectly trained to make the method fruitful.
3. There is possibility of partiality and nepotism of teachers under the SBA. So, a provision for close monitoring is to be conceded to make it flawless.
4. Some of the various activities of SBA may be complex and terrifying for a number of the students. They should be treated in the most possible conducive way so that it does not make them avert to school and education.
5. Guardians should be aware of the fact that their children may not fall victim to any teacher, if suspected, guardians should place immediate complain to the head teacher.
6. Head teachers should sit for a guardian's meeting after each term and try to solve the complaints placed by the guardians.
7. An element of guidance and counseling may be introduced. It will provide opportunity to know teachers' problems while implementing the new assessment system.
 Conclusion
Education is the process by which people acquire knowledge, skills, habits, values or attitudes. During this process it is often required to measure the progress of the learners, how far the educational changes occurred among them or how these changes have been organized. In Bangladesh, secondary education is one of the most important and biggest sub-sectors in education having huge number of institutions and teachers. The rate of enrolment in secondary sub-sector increased significantly in last decade but in terms of quality, it is not up to the mark. SBA is the assessment of students' progress which occurs, on an ongoing basis during the year, as an important part of the students' learning. With SBA, teachers give regular feedback to their students to help them learn better. It has been implemented with the intention of developing students' thought process, their ability to solve problems. It will also focus on students' personal development and communicative ability. The success of the new assessment system will depend on proper management of resources and manpower. The study reveals some significant facts about teachers' knowledge and integrity of implementing this new system of assessment. The number of participants was small but most of them provided similar type of information. We sincerely expect that SBA will bring about noteworthy changes among the students making them more capable to suit to the rapidly changing contemporary society.
Communicative English at Secondary and Higher Secondary Level
The problems of teachers training in secondary level of education in bangladesh, a study on primary school teachers training in bangladesh, the morals of chess, sample letter before action to employer for clearing dues, clathrus ruber, strontium carbonate – a carbonate salt of strontium, extremely rare intermediate black hole found orbiting nearby andromeda, define on immigration visa experts, latest post, platelets can mirror the cognitive effects of exercise, according to study, air pollution may increase a genetic propensity to atrial fibrillation, a new ai-guided approach for the efficient discovery of better energy materials, potentially game-changing for drug testing and cardiovascular disease treatments is the tiny heart model, self-driving automobiles in traffic lack social intelligence, researchers are advancing toward engineering living things by modifying the movement of microscopic particles.
TOP CATEGORIES
AS and A Level
University Degree
International Baccalaureate
Uncategorised
5 Star Essays
Study Tools
Study Guides
Meet the Team
Education and Teaching
Analysis of the Education System of Bangladesh.
Overview of the education
Education is one of the key elements of human asset. It is also one of the principal sources of increased economic growth, development and enhanced welfare of an individual and a household in the process of economic transformation. Increased labor productivity, effective use of land and other physical assets, and improved socio-economic empowerment are three important routes through which education can contribute to economic development. On the other hand, education can also lessen the burden of poverty ― one estimate for Bangladesh reveals that households without any formal education have about six time higher poverty incidence than those who have access to education. Because of all this, educational attainment is considered to be the most important indicator of development. Right to education is a fundamental human right.
Education system in Bangladesh
The educational system in Bangladesh is three-tiered and highly subsidized. The government of operates many schools in the primary, secondary, and higher secondary levels. It also subsidizes parts of the funding for many private schools. In the tertiary education sector, the government also funds more than 15 state universities through the .
Bangladesh conforms fully to the (EFA) objectives, the (MDG) and international declarations. Article 17 of the provides that all children between the ages of six and ten years receive a basic education free of charge.
The three main educational systems in Bangladesh, ordered by decreasing student numbers, are:
General Education System
Madrasah Education System
Technical - Vocational Education System
Other systems include a Professional Education System.
Each of these three main systems is divided into four levels:
Primary Level (years 1 to 5)
Secondary Level (years 6 to 10)
Higher Secondary Level (years 11 and 12)
Tertiary Level
Tertiary education in Bangladesh takes place at 34 government and 54 private universities. Students can choose to further their studies in engineering, technology, agriculture and medicine at a variety of universities and colleges.
At all levels of schooling, students can choose to receive their education in English or Bengali. Private schools tend to make use of English-based study media while government-sponsored schools use Bengali.
are important in the education system of Bangladesh. A cadet college is a special type of school-cum-college established in East Pakistan on the model of English public schools. Military education is compulsory at cadet college. The government of Pakistan established the first residential cadet college in the in 1954. The Education System focuses on religious education, teaching all the basics of education in a religious environment. Islamic teachings are compulsory. Religious studies are taught in and the children also usually serve the related . Students also study some or all of the courses from the General Education System. Madrasahs take in many homeless children and provide them with food, shelter and education, e.g. in Sylhet.
The Technical and Vocational Education System provides courses related to various applied and practical areas of science, technology and engineering, or focuses on a specific specialized area. Course duration ranges from one month to four years.
Tertiary education in Madrasah Education System
In Madrasah Education System, after passing 'Alim' (12th Grade), student can enroll in for 3years long study, for obtaining a 'Fazil' level (14th Grade)as well as they can go for further general education like earning all over the universities degree, And after passing successfully they can further enroll into another 2 years long study system to obtain a 'Kamil' level (16th Grade) degree.
Primary and secondary level management
The primary and secondary levels of education are controlled by the six General Education Boards, each covering a region. The boards' headquarters are located in , , , , and . In addition, the Madrasah Education Board covers religious education in government-registered , and the Technical Education Board controls technical and vocational training in the secondary level.
At the tertiary level, universities are regulated by the University Grants Commission. The colleges providing tertiary education are under the National University. Each of the medical colleges is affiliated with a public university. Universities in Bangladesh are autonomous bodies administered by statutory bodies such as Syndicate, Senate, Academic Council, etc. in accordance with provisions laid down in their respective acts.
Technical and Vocational education management
The Directorate of Technical Education (DTE) is responsible for the planning, development, and implementation of technical and vocational education in the country. Curriculum is implemented by BTEB.
Notable Engineering Universities in Bangladesh:
Literacy rate of Bangladesh
With literacy rate we can see that, Bangladesh is achieving literacy higher than before. It's a good indicator for us. As our governments vision to achieve millennium development goal & vision 2021, to achieve 100% education , government is taking different initiatives to do that.
A glimpse of total budget expenditure on education at Bangladesh
GDP of Bangladesh
Share of education budget in GDP at current market price
Source : BANBAIES & WORLD BANK
Revenue Budget
(Budget is given on crore taka)
Revenue budget is allotted to meet the current expenses like payment of teachers, funding of food program, stipend, text book etc of education. It is hovering at 10%. As numbers of students are increasing with increase of population so to upgrade the value governments needs to increase spending at this sector
Sub-Sector wise Last 5 years Development Budget Allocation (In crore Taka; 1 Crore = 10 Million)
This is a preview of the whole essay
Government budget expenditure Comparison with different secto r
Comparison among Bangladesh, India, Nepal and Sri Lanka
Public financing of education has been a priority for governments in developing countries for several decades. This is because education is perceived in modern societies as an important pillar of socioeconomic development. However, in recent years, the education sector has faced stronger competition from other sectors also seeking financial government support. Given the limited resources governments can generate from taxes and other sources of revenue, there has been a strong push for improvement in the ways in which revenues are allocated among different sectors, leading to stronger efforts to improve public expenditure policy. The budget is the means by which governments, in general, allocate resources to education, and therefore any improvement in the management of these resources will require improvement in governmental budget processes. Bangladesh, Nepal and Sri Lanka are among the developing countries in South Asia trying to improve the development of their education systems through better public financing of schools.
Compare to the literacy rate among Sri Lanka, Nepal and India, Bangladesh is lagging behind from these countries.
Education Expenditure
Literacy Rate of Male and Female
Bangladesh spends relatively little on primary education compared to other countries. In 2002 India and Nepal spent 1.4% and 1.3% of national income on primary education respectively, more than double the percentage spent in Bangladesh in the same year .
The percentage of government expenditure allocated to education in Nepal is relatively high in comparison with other developing countries: it is higher than India (by 3 percent) Sri Lanka (10 percent), Bangladesh (11 percent).
Education-from viewpoint of welfare economics
Education is one of the most important item in government budget in Bangladesh..In Bangladesh 2.4% of GDP or 14.6% of total public expenditure is spending on education budget. Here the question arise that: why does the government involve itself so extensively in education, rather than leave its provision to the market? Market does not provide goods efficiently when those goods are public goods, they give rise to externalities, or they are provided monopolistically. Education is primarily a public goods, improving student's welfare by enhancing their ability to earn a living and more generally to deal with life. Where transportation cost is so high , local schools have an element of monopoly power , but this argument is not very persuasive , except perhaps in rural areas. Education are concerned with economic efficiency because access to education is arguably an important source of social mobility, it is an important good to be made available to all citizens which is called commodity egalitarianism. Because education gives rise to public goods, it follows that government may wish to subsidize it. Here is the question is that: what is so special about education that leads the government not only to provide it but also to produce it as well?
The reasons behind government provide education as a public goods:
Schools can be a powerful force for socialization.
The very spring and root of honesty and virtue lie in good education.
In democratic government, education gives voters background and perspective on which to base their political choices.
In proportion as the structure of government gives force to public opinion, it is essential that public opinion should be enlightened.
Education provides an avenue for political indoctrination that makes citizens more accepting of their governments, thus contributing to political stability.
Increase social mobility.
Public education produces human capital while simultaneously inculcating belief in existing political system.
Externality effect is the third party or spillover effect which is not considered by market. Externality effect can be positive or negative. Government financing of education has positive externality effect. Bangladesh government spends millions of TK for making education compulsory for everyone. It has direct effect on the nation as well as some positive externality effect. The positive externality effects of education in Bangladesh are given bellow:-
Education not only increases an individual's earning capacity but also reduces crime and contributes to the literate and well informed populace that is necessary for a smoothly functioning modern democracy.
Education increase productivity. A well-educated labor force can increase efficiency and produce other important external benefits, such as lower unemployment and greater international competitiveness. Policy makers are realizing the increased returns from investing in human capital and the beneficial impact it can have on the supply-side of the economy
Higher education leads to increased GDP (economic growth) and lower crime rates.
In Bangladesh girl's education increases women empowerment & helps to establish their status in the society.
In Bangladesh there is lots of superstation in the society. Education can reduce this by broadening the outlook of society and can increase social mobility.
Education increases knowledge, broadening outlooks which reduces social rigidness like decrease gender biasedness, dowry, inter household conflicts etc.
Educated workforce is vital for the creation and adoption of new technologies.
Education increases civic engagement and thereby contributes to a stable and democratic society.
Direct and indirect effects of a maternal and child health program in rural Bangladesh.
Can compete internationally in different affairs.
Can choose better government. Education provides an avenue for political indoctrination that makes citizens more accepting of their governments , thus contributing to political stability
Relationship between education & income level
Education is the factor which can change income level of people. and when income level increases peoples life living index also becomes better, child education, mortality rate, maternal health, nutrition increases , while child marriage, women repression, polygamy, women empowerment also increases, Which brings overall socio-economic development.
Studies by the US Census Bureau and many other agencies have consistently shown that people with a higher level of education make more money than those with less education. For example, the US Census Bureau issued data in July of 2002 that shows the following:
Education and Annual Income
It has also been shown that this higher level of annual earnings translates into significant increases in overall lifetime earnings. The US Bureau of Labor Statistics data from 2001 show the following:
Education and Lifetime Income
Higher levels of education payoff in lifetime income in a big way. The US Bureau of Labor Statistics has also shown that the unemployment rate steadily drops with higher levels of education. Unemployment for non-high school graduates was 6.5% in 2000, 3.5% for high school graduates, and 2.3% for those with an associate degree.
This is an universal picture applicable for all country all over the world. Our country is not on different window on this sector. Thus education makes a difference.
Education is strongly related with rise in income level. Here This scatter diagram shows a few things about the relationship between two variables. The percent of people with Bachelor's degrees is treated as the explanatory variable, while the personal income is treated as the response variable. By looking at the graph, it is evident that the two variables have a positive association, that is, when one value increases, the other also increases. The points also seem to resemble a line, showing a possible linear relation.
So when education level increases peoples income also increases. When peoples income increases it also bring change in literacy, life living index, children nutrition, maternal health, women empowerment & reduces polygamy, child labor, child marriage, women violence etc. At a word it brings overall socio-economic development.
Does education reduce poverty in rural Bangladesh?
Poverty is a cause of a lack of education, as well as an effect. If we find answer these questions- Is education contributing to poverty reduction in rural homes in Bangladesh? What impact does poverty have on enrolment rates in primary and secondary school? W can get this-
It is beyond doubt that education contributes to social and economic development in society. Moreover, in the search for strategies to reduce poverty, it has been established that education and literacy are crucial for improving the lives of people living in poverty. Education helps to alleviate poverty by affecting labor productivity and via other paths of social benefit. It is therefore a vital development goal.
The Programme for Research on Chronic Poverty, in Bangladesh, and the Chronic Poverty Research Centre, in the UK, examine whether education contributes to poverty reduction in rural homes in Bangladesh. They also look at the potential for poverty reduction through better employment opportunities.
Using data from a school-level survey and a household survey, the study investigates children's access to primary and secondary school by assessing at the impact of different levels of poverty on enrolment rates. It also considers the link between school quality and poverty.
The study finds that:
Primary and secondary school enrolment rates are lower among children from poor households, with differences increasing at the level of Secondary School Certificate (SSC) completion.
As education has an inter-generational impact on schooling, future generations will be affected by the link between poverty and education.
Poverty has a negative impact on school enrolment: there is a lack of motivation to send children to school, due to high unemployment and few opportunities for salaried employment with less than a SSC-level education. Parents are also unable to pay for education.
The weaker performance of children living in poverty (with regard to dropping out of school and not completing SSC), has, in part, been due to the poorer quality of their schools.
Distance to high school has no significant impact on enrolment.
More girls enroll at secondary level than boys, but their completion levels at SSC level are much lower, due to their lack of employment opportunities.
Children drop out because they dislike school, are not doing well and lack intelligence for studying. This implies that children are not learning interesting, useful and relevant information.
On the basis of the findings, researchers recommend that policies to counteract the negative impact of poverty must be pursued urgently:
Poorer children should be targeted by stipend and other education support programmes.
Support for primary education must be given to the children of the poorest 20 to 25 percent of households.
The poorest 50 percent of households must be prioritized for support at secondary school level. Both boys and girls deserve this support.
In addition:
As a priority, jobs must be created for young people with a secondary education.
In the medium term, infrastructure and industry policies should target rural areas.
Plans should be adopted for special courses offering training skills to young people who complete any level of secondary school.
The performance of students living in poverty can be improved without significant changes being made in terms of location of schools and number of teachers.
Policies to motivate girls to complete SSC should change the secondary-level stipend for girls to partly cover examination fees, and place a condition on schools that a certain proportion of secondary-level girls who receive a stipend must sit and pass the SSC.
The learning process must change to ensure that children do well in their studies, move up through the classes and find school learning interesting. Well-planned and long-term strategies must be implemented in phases. Policies and programmes in this direction must begin now.
Crowding out Effect in Education :
To overcome market failures due to externalities or lack of an effective credit market, countries often try to improve access to education by providing more public school places. However, if there is already an active private sector, then some of the public expansion may draw away students who may have gone to school anyway. This would attenuate any efficiency gains.
For a pure public good, government and private sources are perfect substitutes, one completely crowding out the other. Increased government expenditures displace private giving. Potential crowding out is examined across four levels: Doctoral, master, bachelor and two year degree granting colleges and universities.
Annual private and public spending in basic education (constant 2006/07 prices)
This table shows that in most cases private spending tends to narrow differences in spending per student in the different school types. For example, government spends 3-4 times as much on government primary and secondary schools students compared to students in registered non-government schools. Private spending differences between the school types are much smaller and imply that total spending per student (both public and private) is only twice as high in government primary and secondary schools. However, even though the differentials decrease once private spending is included they remain large.
Primary education outcome indicators
This table shows that only 60% of children that enroll in Class 1 reach the final grade of primary school. This implies that at least 40% of primary school entrants fail to complete primary education and to achieve even basic literacy. It is also important to note that survival rates differ across school types; government schools are more successful at retaining their students than non-government schools.
Secondary education outcome indicators
Here also the same result: government schools are more successful at retaining their students than non-government schools.
It is seen above the information that though private spending is larger than public spending but government outcome is better than private one.
Sequential Effect of Education
A higher educated workforce has a higher productivity . Individual earnings are strongly related to educational attainment. People who have completed high school earn more than those who have not; people with a bachelor's degree earn more than those with only a high school diploma; and those with a graduate education earn more than those with only an undergraduate education. It has a far reaching effect. If an uneducated community get education what will be the sequential benefit we can see from following chart-
BD government makes education compulsory for everyone. Bangladesh government also takes the goal that up to 2021 every citizen will be literate. To fulfill this goal they take lots of activities in last two years
Cost benefit analysis
By- Harvey S. Rosen
Economics of the public sector
By-Joseph E. Stiglitz
Ministry of education
Ministry of finance
Economic review
Bangladesh bureau of statistics
Document Details
Author Type Student
Word Count 5848
Page Count 32
Level University Degree
Subject Education and Teaching
Type of work Coursework
Related Essays
Flooding: Bangladesh
Research Proposal into English Language Teaching Methods. CA in the colleg...
Societal Perceptions and Interpretations of Education: Societal Responses a...
MFA phase-out and rise of China: the consequences for the RMG sector in Ba...
Education in Bangladesh
The education system of Bangladesh faces an enormous challenge in the form of a huge population, poorly educated and largely impoverished, and a lack of funds to address their needs. Gradual improvements are being made, but the system still struggles to meet the needs of the Bangladeshi population. A few statistics will illustrate the scope of the challenge of education in Bangladesh. In a country of almost 150 million, only 300,000 (one-fifth of one percent) have completed high school. The adult literacy rate is below 50% (all the way down to 35% for women). 40% of children will never set foot inside a classroom. And what little resources are available for education are concentrated among the urban elite, so low-income families rarely see the benefit of an education for their children.
The existing school system has three separate tracks: General Education, Madrasah (religious) Education, and Technical/Vocational Education. Each track sends students through preschool, primary school, and secondary school, and in some cases there are colleges available as well. In most cases, students attend whatever school is most accessible – ideology does not play as strong a role in the choice of a school as it does in some other countries, and so religious education is common even among families that are not especially pious.
There are a total of roughly 80 universities in Bangladesh, a small number given that the population of the country is more than double that of the UK or France. About half are run by the government, while the others are private schools, but in either case they serve almost exclusively the children of Bangladesh's small upper class. Unfortunately, lack of funds, lack of good leadership, and the complete absence of centralized regulation have led to a decline in quality among the majority of these universities since their founding in the 1980s (shortly after Bangladesh won its independence from Pakistan in 1971). This in turn causes students not to bother applying or attending college even when they have the opportunity to do so, and so the cycle of poor education continues.
Fortunately, the government of Bangladesh has taken aggressive steps to correct this problem. School is now mandatory until the fifth grade (although vast numbers of school-age children will still not attend because the law is not being enforced), and female students are being given modest stipends to encourage them to attend school and smooth out the gender disparities in literacy and general education. Despite the fact that lack of resources makes many of these policies difficult to implement and enforce, they are at least a step in the right direction.
Academia.edu no longer supports Internet Explorer.
To browse Academia.edu and the wider internet faster and more securely, please take a few seconds to upgrade your browser .
Enter the email address you signed up with and we'll email you a reset link.
Education Sector of Bangladesh
Related Papers
Khondoker Shakhawat Ali
In R. Chowdhury, M. Sarker, F. A. Mojumder, & M. M. Roshid (Eds.) (2018). Engaging in Educational Research: Revisiting Policy and Practice in Bangladesh. Singapore: Springer.
Raqib Chowdhury
The recent decades have seen major—and in some cases unprecedented—changes in Bangladesh's education sector, sometimes in ways distinct from other countries in the region and globally. Given its history of nearly two centuriesof British colonial rule, as well as a religion- and language-based national identity that eventually saw the country transition from being a province in the British-ruled Subcontinent to an independent country, influences of such political histories can often be felt unmistakably in the way education is understood and enacted in current day Bangladesh. In addressing some of the persistent trends of education, this book presents, as much as it critiques, educational practices across a range of sectors—from primary to higher education, from formal to the informal and the on-demand, and looks into practices in teaching and pedagogy, curriculum planning and assessment, policymaking, administration and leadership. This chapter sets the scene for the studies showcased in this volume, first by giving an overview of education in Bangladesh, and introducing the structure of its education. It then discusses the roles of the various stakeholders in education, highlighting issues and topics that have been picked up by chapter authors as the themes in the book. This chapter intends to familiarise readers with some of the basics of Bangladesh's education today and the emerging realities in this context in recent times. In doing so, the chapter presents the most persistent interests of education researchers all of whom have had many years of teaching and research training and experience both nationally and internationally.
sawpno prithibi
Zohara Ummey Hassan
CPD Working Paper
Lumbini Barua
The world is currently home to nearly 1.2 billion youth, and among them 27.4 million reside in Bangladesh. Recognising the immense potentials of this huge youth population, the Agenda 2030 strongly advocates for creating a safe and enabling environment for them, where they will fully enjoy their rights, and will grow as capable citizens to take on the responsibility of the future of this world. In this context, the present study seeks to portray an overview of the state of youth globally and in Bangladesh from the perspectives of SDG 8 (employment), SDG 4 (education) and SDG 3 (health), and also illustrate an analysis of the existing obstacles and possible pathways of youth development.
Nafiz Miraz
Tashmina Rahman
While Bangladesh has achieved gender parity in primary and secondary education under the general education stream, it is yet to improve gender outcomes in the technical and vocational education and training (TVET) subsector. The share of female enrolments in diploma programs remained steady, averaging around 12 percent over the past five years despite the repeated call of the government for increased female participation in skills training. The paucity of relevant studies has been hindering effective policy discussion on the issue. To understand the factors that affect female participation in TVET, this study undertook a systematic review of existing literatures, supplemented by qualitative information from Focus Group Discussions (FGD) conducted on students of diploma programs offered by polytechnics in Bangladesh. The study discusses several factors affecting female participation in TVET: (a) supply constraints – lack of institutions nearby, non-conducive facility and faculty environment, non-availability of female-friendly courses and relatively high TVET costs for poor households, and (b) demand-side constraints - the reputational issue as the TVET sector is associated with the image of male-domination and low-performers, weak demand for technical training among potential female students due to lack of awareness, and employers' perception of appropriate female roles at work. The study indicates that female participation in technical diploma programs would benefit from activities across the following areas: (i) creating a gender-friendly environment in polytechnics and workplaces; (ii) developing more service-orientated diploma programs; (iii) developing a TVET awareness campaign for females; (iv) supporting a career counselling and guidance system for females; (v) improving access to higher education; (vi) providing greater demand-stimulating incentives; (vii) generating research and knowledge on TVET for females, and (viii) leveraging partnerships to promote skills development for females.
International Education Studies
Mohd Hamzah
RELATED PAPERS
Dr. BM Sajjad Hossain
Sharmin Akther
M Nazmul Haq
Mansura Mahmuda
Yeasir Arafat
A synthesis of best practices in TVET quality assurance in selected South Asian countries
Janaka J Jayalath
Masrur Iqbal Maruf
Cross-cultural Communication
Geetha Subramaniam
MD. SHAHRIAR SHAFIQ
Md. Zaman Hossain
James C Knowles
Debproshad Halder
BANGLADESH EDUCATION JOURNAL
M. Tariq Ahsan
Ahmed Saleh
Taslima Rahman
IFLA Journal
Zakir Hossain
African Journal of …
Muhammad Faizal Alfian , Professor Dr Md Taher Billal Khalifa
Romij Ahmed
Mohammad Kamrul Hasan
IOSR Journals publish within 3 days
Marina M Illyas
Asian Journal of Education and Training
sevinc tunali
Sabrina Nourin
Four Years of SDGs in Bangladesh Non-State Actors as Delivery Partners Musta zur Rahman
Khokon S U I T E N Murmu
Shaikh Tufail Ahmed
Scandinavian Conference on Health Informatics
Md. Saifuddin Khalid
Mokter Hossain
The Palgrave Handbook of Asia Pacific Higher Education
Weiyan Xiong
BIGD, BRAC University
Md. Robiul Islam
ahammad shah
Anwar Hossain
Muhammad Hossam Chowdhury
Zakir Hossain , Muhammad Mezbah-ul- Islam
Dr. Shaheer Ellahi
RELATED TOPICS
We're Hiring!
Help Center
Find new research papers in:
Health Sciences
Earth Sciences
Cognitive Science
Mathematics
Computer Science
Academia ©2023
Sample details
Vocational education
Words: 1857
Related Topics
Importance Of College Edu...
Character education
Intellectual property
Multicultural education
Writing Experience
Female education
Higher Education
Physical Education
Educational Goals
Purpose of Education
Sex education
Standardized Testing
Critical Thinking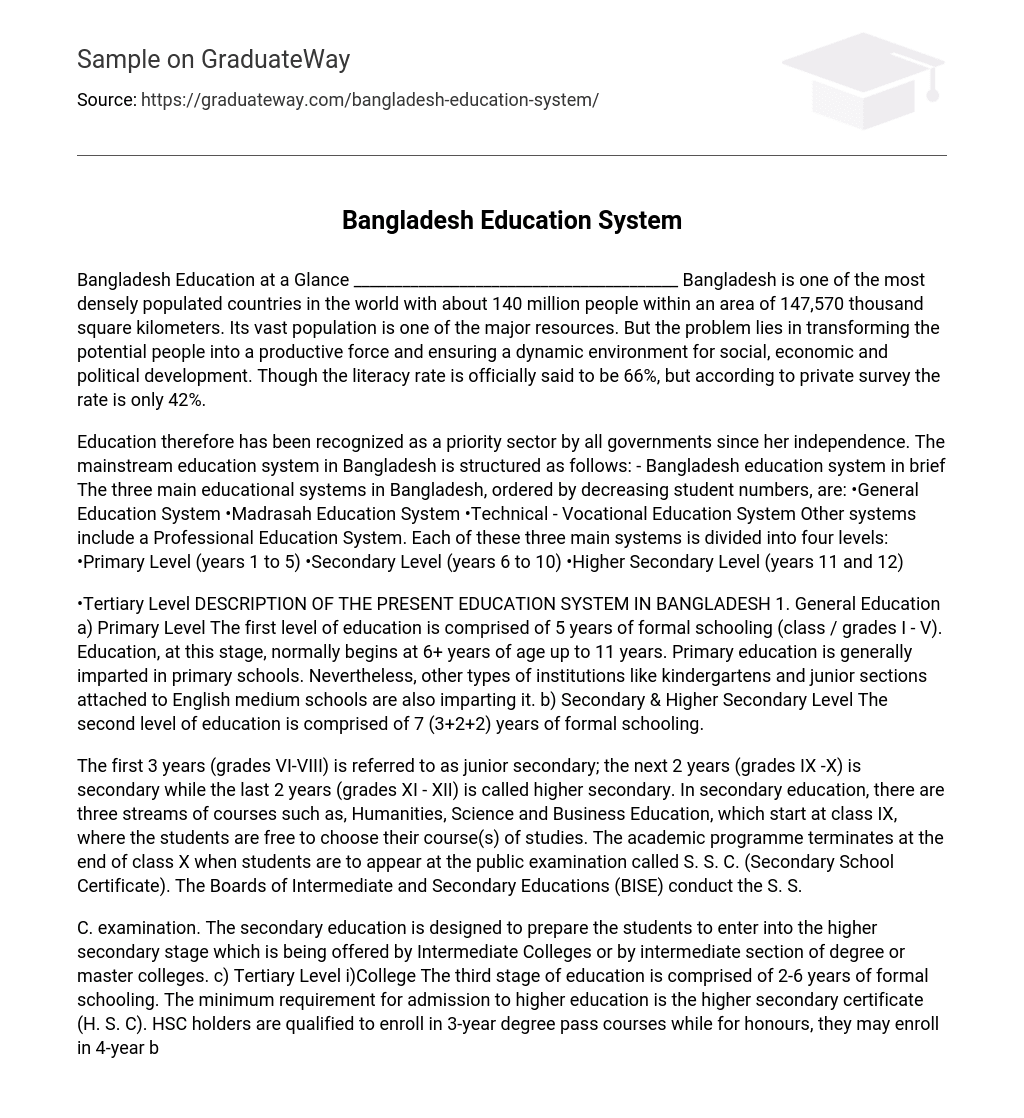 Bangladesh Education System
Bangladesh is one of the most densely populated countries in the world with about 140 million people within an area of 147,570 thousand square kilometers. Its vast population is one of the major resources. But the problem lies in transforming the potential people into a productive force and ensuring a dynamic environment for social, economic and political development. Though the literacy rate is officially said to be 66%, but according to private survey the rate is only 42%.
Education therefore has been recognized as a priority sector by all governments since her independence. The three main educational systems in Bangladesh, ordered by decreasing student numbers, are:
ready to help you now
Without paying upfront
General Education System
Madrasah Education System
Technical – Vocational Education System
Other systems include a Professional Education System. Each of these three main systems is divided into four levels:
Primary Level (years 1 to 5)
Secondary Level (years 6 to 10)
Higher Secondary Level (years 11 and 12)
Tertiary Level
General Education
Primary Level The first level of education is comprised of 5 years of formal schooling (class / grades I – V). Education, at this stage, normally begins at 6+ years of age up to 11 years. Primary education is generally imparted in primary schools. Nevertheless, other types of institutions like kindergartens and junior sections attached to English medium schools are also imparting it.
Secondary & Higher Secondary Level The second level of education is comprised of 7 (3+2+2) years of formal schooling. The first 3 years (grades VI-VIII) is referred to as junior secondary; the next 2 years (grades IX -X) is secondary while the last 2 years (grades XI – XII) is called higher secondary. In secondary education, there are three streams of courses such as, Humanities, Science and Business Education, which start at class IX, where the students are free to choose their course(s) of studies. The academic programme terminates at the end of class X when students are to appear at the public examination called S. S. C. (Secondary School Certificate). The Boards of Intermediate and Secondary Educations (BISE) conduct the S. S. C. examination. The secondary education is designed to prepare the students to enter into the higher secondary stage which is being offered by Intermediate Colleges or by intermediate section of degree or master colleges.
Tertiary Level. College The third stage of education is comprised of 2-6 years of formal schooling. The minimum requirement for admission to higher education is the higher secondary certificate (H. S. C). HSC holders are qualified to enroll in 3-year degree pass courses while for honours, they may enroll in 4-year bachelors' degree honours courses in degree level colleges or in the universities. After successful completion that, one can enroll in the master's degree course. Master degree courses are of one year for honours bachelor degree holders and 2 years for pass bachelor degree holders. For those aspiring to take up M. Phil and Ph. D courses in selected disciplines. The duration is of 2 years for M. Phil and 3-4 years for Ph. Ds after completion of master's-degree. University There are 73 universities in Bangladesh. Out of these, 21 universities are in the public sector, while the other 52 are in the private sector. Out of 21 public sector universities, 19 universities provide regular classroom instruction facilities and services.
The madrasah education was introduced in 1780 with the establishment of Calcutta Madrasah. In madrasah education, one can learn Islamic religious education along with the general education as complementary to each other in the system of education. The madrasah education system has been continuing with some modifications according to the demand of the time, and many madrasahs grew up in this sub-continent.
Primary level or Ebtedayee education This is equivalent to primary level of general education. The first level of madrasah education is comprised of 5 years of schooling (grades I – V). Normally, the children of 6 years of age begins in class 1 and finishes class V at the age of 11 years. Ebtedayee education is imparted in independent ebtedayee madrasahs and ebtedayee sections of dhakhil, alim, fazil and kamil madrasahs. It is also imparted in some of the private quami – kharizi madrasahs.
Secondary & Higher Secondary level The secondary level of madrasah education is comprised of 7 (5+2) years of formal schooling. It takes five years in dhakhil stage (S. S. C. level) from grade VI – X while the last 2 years in alim (higher secondary) stage. Dhakhil level education is imparted in dhakhil madrasahs and in dhakhil level of alim, fazil and kamil madrasahs. Alim is equivalent to higher secondary certificate education imparted to alim madrasahs and in alim level of fazil and kamil madrasahs. There are two public examinations namely; dhakhil and alim after the completion of 10 years of schooling and twelve years of education, respectively. The Bangladesh Madrasah Education Board (BMEB) provides these two certificates.
Tertiary level This level is comprised of 4 (2+2) years of formal education. The minimum requirement for admission to higher level of madrasah education is the alim (equivalent to HSC) certificates . Alim pass students are qualified to enroll in 2-year fazil education. After successful completion of fazil degree one can enroll in 2 -years kamil level education. There are four streams of courses in kamil level education; streams are hadis, tafsir, fiqh and adab.
Bangladesh Madrasah Education Board conducts these two fazil and kamil examinations and award certificates. The Bangladesh Madrasah Education Board has the following functions as regard to madrasah education:
grants affiliations to different levels of madrasahs from ebtedayee to kamil;
prescribes syllabi and curricula;
conducts public examinations (dhakhil to kamil) and scholarship examinations.
For the students whose interest are not strictly academic may find technical-vocational programmes more interesting and more valuable for their future. Government tries to ensure that the course curriculum should be relevant to students' interest and aspirations while at the same time it should address the needs of the job market. a. Primary level There is no technical-vocational institution in primary level of education. Ebtedayee in the first level (Primary level) of madrasah education has no scope for technical-vocational education. Accordingly, technical – vocational education in Bangladesh is designed in three phases under two major levels of secondary and tertiary level of education. b. Secondary level
Vocational courses starts from secondary level. The certificate courses prepare skilled workers in different vocations starting from ninth grade after completion of three years of schooling in secondary school. At this level the courses are diversified in different vocations spread over 1 to 2 years duration. Recently, 2 years duration vocational courses have been introduced at the higher secondary level in government managed vocational training institute (renamed as Technical School & College). Diploma courses prepare the diploma engineers at the polytechnic institutes. This course spread over 4 years duration after passing the secondary school certification examination. There is a technical education board called Bangladesh Technical Education Board (BTEB), which grants affiliation to the technical institutes.
The College of Textile Technology and College of Leather Technology offer four -year degree courses in Textile Engineering and Leather Technology respectively after completing Higher Secondary Education. Professional education also imparted in Medical Colleges, Dental Colleges, Nursing College, Homeopathic Colleges, Law Colleges etc.
Other Types of Education Religious and Moral Education One of the aims of education is to establish human, cultural and social values in every tier and sphere of individual and national life. Religious and moral education is one of the ways of achieving this aim. The followers of every religion of the country have the right to learn the main subjects of their respective religions, acquire knowledge about rituals and ceremonies of their respective religion. Religious and moral education is imparted with this end in view.
Islamic Studies In order to lead life according to the Islamic tenets and regulations, it is indispensable for every Muslim male/female to receive Islamic education and implement these in their day to day life.
Hindu – Religious Studies Bangladesh Sanskrit and Pali Board conducts 3- year course on Sanskrit and religious subjects. These subjects are Adhya in the first year, Madhya in the second year and Upadhi in the third year. Sanskrit language, Prourahitta, Smriti (Hindu law) etc. subjects are included in the courses.
Buddhist Religious Studies The system of Buddhist religious studies and the Buddhist religious language Pali are almost similar to that of Hindu religious studies. There is 3-year title course in Pali and 'Bisharad' is offered in Pali instead of Teertha. Bangladesh Sanskrit and Pali Board conducts traditional system of Pali education. There are about a hundred of Pali Tolls in the country.
Christian Religious Education To meet the religious education needs of Christians in Bangladesh, there are Bible schools and intermediate seminaries which enroll students in the SSC; there are also major seminaries and theological colleges where students with HSC are admitted.
These are all run and managed by the Church bodies which cater to the needs of different denominations of Christianity. 'Bangladesh's new education policy must consider 7Cs' The present government is designing yet another "new" national education policy. This is indeed timely, especially in a globalising world in which other countries have catapulted themselves into the 21st century by vigorously engaging in "knowledge revolution" and by developing their human resources that are aligned with the global knowledge architecture.
She needs help to go further The 7Cs' of education policy discuss below: Commitment: A very important determinant of any accomplishment in the education sector is the commitment. Commitment is not automatic; it must be generated through a programme that is exciting, achievable, rewarding, demonstrates clear benefits, involves the stakeholders, and is measurable. Comparability: A question is whether to build the education system from scratch or emulate. Here emulation means replicating what is possible and adapting what is needed.
Clientele: The education sector must be designed with its main clientele (students) in mind, whom it wants to serve and empower. It should develop appropriate and responsive programmes, processes, and organisation structures that would best be able to deliver. Capacity: One of the biggest stumbling blocks today for the entire education system is its incapacity. Capacity problems are reflected in the poor condition. Clearly, it is vital to build capacity in the following areas – managerial skills, curriculum design, quality teaching, evaluation systems, and research capabilities – to sustain a first-rate education system.
Coordination: To eke out efficiencies, the education system must be integrated in a linked structure in which one sub-system feeds into the next in a smooth and integrated operation to achieve clear and measurable goals. Cash: The education sector is financially challenged; in fact deprived! Investment in education in Bangladesh is roughly 2. 7% of GDP. If the government is serious, it must increase the allocation of "cash" to this sector substantially. Communication: The final piece that ties everything together is communication. Concern
Governments must design strategies, policies to achieve the goals and objectives, and measure them against international benchmarks. A correlation must be developed between the demands of the job market and expected and current availability of the students to fulfill these demands. A check and balance system must be ensured at all levels, to effectively implement the policies. Technology must be utilized at its best to bridge the gaps, and removing inefficiency of the system to provide quality education. All we need is the "Technologized Sustainable Educational Environment", to ensure the progress of any country.
Cite this page
https://graduateway.com/bangladesh-education-system/
You can get a custom paper by one of our expert writers
Special education
Brown V Board of Education
Technology in Education
Right to education
Importance of Education
Online Education Vs Tradi...
Check more samples on your topics
Why bangladesh studies should be taught to students of bba in bangladesh.
Why Bangladesh Studies should be taught for the students of BBA It is important to learn the whereabouts of a country if someone wants to do business in a particular region or a country. As a student of BBA in Bangladesh, 'Bangladesh studies' is as important as any other courses in the whole curriculum. If
Higher Education in Bangladesh
Higher education plays a crucial role in modern civilisation. While this is a self-evident truth to many, its importance cannot be stressed enough. It holds true from both micro and macro perspectives. On a micro scale, the most obvious benefit of higher education is that it clearly provides greater employment opportunities than secondary education. There
Education System of Bangladesh
This fundamental right has been denied to a large section of the population lying particularly below the poverty line in many developing countries of the world including Bangladesh. Acute poverty in their families may be singled out as the major cause behind such situation. Recognizing the critical importance of transforming them into effective human resources
Bangladesh Organic Kazi and Kazi Tea
Kazi & Kazi tea is the only substantial organic tea grower in Bangladesh. The tea garden is located at the Tetulia, the Northern district of Panchagar, only 50 km south of Darjeeling. Kazi and Kazi Tea is the pioneer of organic tea produced in Bangladesh and the first to be certified by international certifying authorities.
The Role of Cse for the Developement of Capital Market in Bangladesh
OBJECTIVES OF THE STUDY The major objective of this study is to evaluate the performance and contribution of CSE on capital market of Bangladesh. The objectives of my study are stated as follows: To know the Existing structure review Manning Scenario i. e. present HR inventory Levels in the Management of CSE Authority Relationship &
Garment Exports From Bangladesh: An Update and Evaluation
The success of readymade garment exports from Bangladesh over the past two decades has surpassed the most optimistic expectations. The paper reviews the literature on this industry, presents recent data on the sector's performance, and evaluates future trends in the international and domestic clothing industry. More specifically, the paper evaluates the negative impact of the
Selection Process of Hsbc Bangladesh
The analysis shall use interviews of selected HSBC Bangladesh Personnel. Moreover, the study shall also use previous studies and compare it to its existing data in order to provide conclusions and competent recommendations. Primary Data The primary source of data will come from an interview with an HSBC Bangladesh Personnel.. The primary source of data
Public Sector Human Resource Management in Bangladesh
Human Resource Management
Human Resources
At the beginning of the millennia, the World Public Sector Report 2001 asserted that countries with the most plopped and comprehensive public sectors, compared to the weak, inefficient and sluggish ones, have been more successful in reaping the benefits of globalization (United Nations, 2001). But public service efficiency is of diverse nature in developed and
Children In Bangladesh: Child Labor And Poverty
Child Labor
Bangladesh, to the east of India on the Bay of Bengal, is a South Asian country marked by lush greenery and many waterways. The population of Bangladesh is 163 million. There are 51.3 million children (ages 0-14 years) living in Bangladesh, of which 24.9 million are girls and 26.4 million are boys. Bangladesh is a

Hi, my name is Amy 👋
In case you can't find a relevant example, our professional writers are ready to help you write a unique paper. Just talk to our smart assistant Amy and she'll connect you with the best match.